Summer activities in Jyväskylä
Jyväskylä is known as a beautiful summer city full of fun activities. Who wouldn't love to try different saunas near the Lake Jyväsjärvi, enjoy a nice summer day on the deck of a restaurant ship or admire stunning nature around the hills of Laajavuori?

Sauna, restaurant ships, water sports and other activities in the harbour
The small harbour next to city center offers many nice activities for a beautiful summer day.
You can experience one of the most famous and unique Finnish things, sauna, in Sataman Viilu. You can find your favorite from three different modern saunas, relax in a jacuzzi and swim in the Lake Jyväsjärvi.
There are also a few cozy restaurant ships in the harbour giving you a taste of Finnish summer. If you like, you can also have a cruise on Lake Päijänne, which is the second largest lake in Finland right after Lake Saimaa.
In addition, you can also buy ice cream or sit down to enjoy a picnic. In the need of something more extreme, try is wakeboarding, stand-up paddling or visit a small water park built in the lake.
Outdoor activities in Laajavuori
Would you like to go hiking?
Or maybe have fun in an adventure park or try disc golf?
If the answer is yes, Laajavuori is the place to be.
Laajavuori is an urban outdoor sports center which offers a wide range of sports activities in breathtaking landscapes, located only four kilometers away from the city center. In Laajavuori you can walk up to a 227 meters high hill to admire stunning views of the city, forests and lakes. On the top of the mountain there is The Nykänen ski jump hill, which is named after the Finnish ski jumping legend Matti Nykänen, is one of the best known landmarks in Jyväskylä. Laajavuori also has a four-kilometer-long nature trail that runs through a varied forest terrain.
There are also many other scenic hiking trails in the Jyväskylä area such as Nyrölä, Kanavuori and Vaarunvuoret, just to name a few.
So many festivals!
Jyväskylän kesä (Summer of Jyväskylä, July 5th to 11th) is the main cultural event of the summer. The multidisciplinary art program includes concerts, performances and workshops for all ages. An important part of the program is the Puistojuhlat (Park Fest), a two-days long music contemporary festival in the heart of the city.
Knitters and crochet fans should definitely plan to visit Jyväskylä Knit Festival (July 6th to 9th). Take part in fun knitting activities and shop quality yarns from local hand craft shops.
Suomipop festival (July 13th to 15th) is a big pop festival that takes place in Lutakko harbour. Line up includes some of Finlands most-known pop and schlager artists.
John Smith Rock Festival (July 20th to 22nd) gathers many rock music lovers to Laukaa, 20 km from city center. Famous rock bands from all over the world take the stage every year.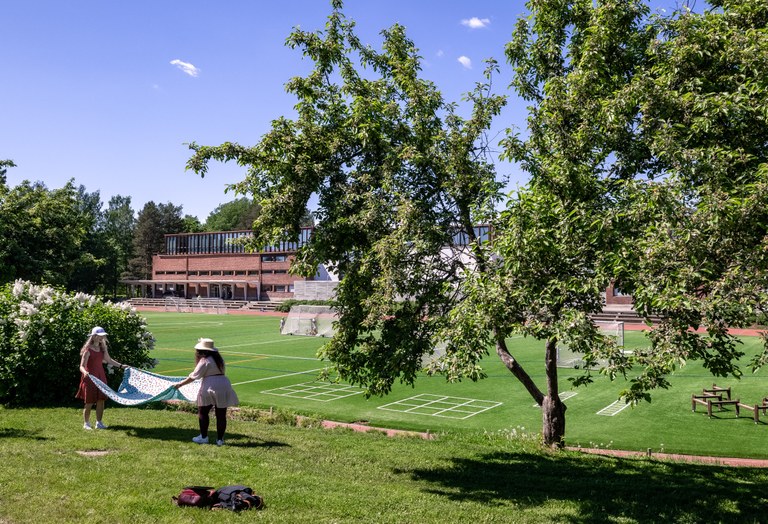 Museums, history and culture in the city center

The city center of Jyväskylä offers not only great shopping facilities, cafés and restaurants, but also fascinating history and culture.
Toivola Old Courtyard is an atmospheric yard surrounder by one of the oldest buildings in Jyväskylä, cafe, restaurant, shops and a museum.
Speaking of museums there is also something for the people interested in museums and galleries in Jyväskylä. There is a museum dedicated to the works of the internationally renowned architect and designer Alvar Aalto. Only in Jyväskylä you can find a total of 29 significant buildings designed by Aalto. Craft Museum of Finland, the Museum of Central Finland, and Jyväskylä Art Museum are worth seeing as well.
Famous historical stairs are located on the Harju ridge. On top of the ridge you can find the Natural History Museum and Vesilinna Observation Tower where you can get a view of the entire city. Since 1976 the so-called "evening song" (in Finnish iltasoitto) has been played every summer evening on top of the Vesilinna tower. The song can often be heard all around the city area. So don't be surprised when you hear it, just stop what you're doing and listen to the beautiful song!
See you in sunny Jyväskylä!